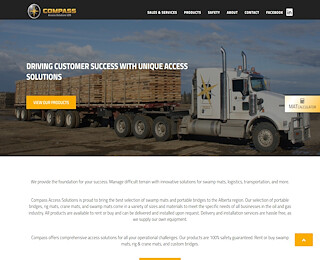 Crane mats are essential for ground stabilization during crane operations. Without adequate ground stabilization, cranes become unstable and can easily tip over. Not only is this scenario hazardous, but at best, crane tippings are incredibly costly. At Compass Access Solutions, we manufacture only the highest grade crane mats. Our crane mats are rugged, durable, and long-lasting.
Custom-Build Your Crane Mats with Compass Access Solutions
Compass Access Solutions offers crane mats, also referred to as "heavy equipment mats" and "timber mats," that are perfect for withstanding the weight of heavy operating machinery and ideal for leveling rugged landscapes. Our understanding of the purpose and functionality of crane mats is why we're the industry-leading crane mat manufacturer. In effect, Compass Access Solutions is a one-stop-shop for all your access problem solutions. Our knowledge and expertise are invaluable concerning crane mat application.
We are available to install or remove your crane mats around the clock, and we are available to answer questions or address your problems 24/7. We service all of Alberta and Northern British Columbia, and we have our distribution and fabrication yards stationed throughout Alberta. Hence, we're able to tailor your crane mats to any size or scope.
Our customers appreciate being able to customize their crane mats according to the unique needs of their projects. For example, our crane mats can be custom-built to different sizes, with ramped ends, and with lifting slings and other lifting solutions for steel frame mats. Our standard size crane mats are 4' wide and range from 12' to 20' in length.
Environmental-Friendly Access Partners
We understand that all of our valued customers don't specialize in matting. That's why Compass Access Solutions is an essential partner for access problem solutions. We work mostly in Western and Northern Canada. While this region is beautiful and enchanting, it is also quite wild. In fact, the terrain in this region is some of the most difficult-to-access terrains in the world. Further, the ground in this region is home to unique and sensitive life forms and ecosystems.
Canada has the largest concentration of muskeg on the planet, and many landscapes are saturated either seasonally or year-round. Additionally, Northern and Western Canada are home to countless lakes, creeks, rivers, bogs, marshes, and wetlands. Traversing these landscapes can be impossible without quality swamp mats.
Working in Western and Northern Canada, Compass Access Solutions has had to develop technologies and techniques to preserve the environment and reach the even most remote areas. One of the reasons we are well-respected in Canada is because of our commitment to preservation, customer service, and because of our reputation for being safety-oriented. All of our operations are in total compliance with the governmental regulations of every location we service, and we go above and beyond to exceed safety expectations. Further, all of our staff is highly trained and tightly managed to ensure job safety.
Contact Us
Contact Compass Access Solutions today to discuss how we can design, manufacture, and install your swamp mats for you. We'll help you reach your destination no matter how far or how complicated your destination is.
Crane Mats
Compass Access Solutions Ltd.
(780) 513-5517
40016 Hwy 43
Grande Prairie County No. 1
AB
T8X 4C6
View Larger Map